Real Estate Technology, Re-Imagined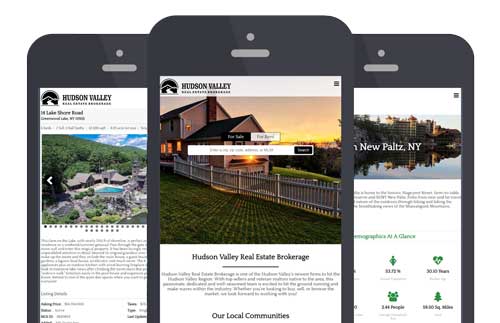 We Understand How Your Clients Use Technology
According to a report by the National Association of Realtors in 2019, 93 percent of buyers and sellers will use the internet to aid their real estate journeys. Of these buyers and sellers, an estimated 73 percent will use their smartphone or tablet to conduct home searches, research local communities, communicate with real estate brokerages, and gain the insights that they need to either buy, rent, or sell a home. With these statistics in mind, having a responsive, mobile-friendly website is incredibly important.
Gone are the days when people will search through cumbersome and outdated real estate websites. Instead, buyers and sellers want to have the information easily displayed in a responsive format that caters to their needs. Our mobile-first development strategy ensures that your brokerage's website will work seamlessly across devices. Buyers and sellers will be able to use your mobile-friendly website to easily conduct property searches and view listings from various MLS®s, perform Automated Market Valuations on their properties, read your blog posts, and contact you through numerous in-page calls to action.
What problem can we solve for you today?
Only $299 a month for your all inclusive website. No Risk, and 30 Day Money Back Guarantee.
With our easy start program, and our 30 day money back guarantee you can get started with confidence!
REQUEST A FREE CONSULTATION